Livio Russo is Group Head of Ethics & Investigations and Group MLRO at Assicurazioni Generali S.p.A. in Milan, Italy.
In this role, Livio is responsible for the compliance activities related to the Code of Conduct, the Ethics and Integrity Culture, the Reporting of Concerns, the Employees' Conflicts of Interests and to conduct the group relevant complex investigations. In addition, He is responsible for the coordination of the compliance activities related to anti-bribery and corruption, the international sanctions and money laundering suspicious activities reporting.
Livio was previously at Promontory Financial Group where he advised supervisory authorities (including central banks and European authorities) and global financial institutions mainly on AML/CFT and financial sanctions matters around the globe. In Promontory Livio was the AML/CFT and financial sanctions network node for Continental Europe. He was previously a management consultant in The Boston Consulting Group where he advised various financial institutions mainly on strategy, corporate finance, post-merger integrations, M&A and transformation projects.
He started his career in the Public Sector working for a company of the Italian Ministry of Economy and Finance.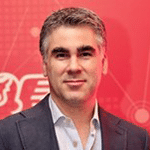 Livio Russo
Group Ethics Officer
Generali