Dhar Solanki – is the MLRO at Europe Arab Bank Plc, a subsidiary of the Arab Bank Group, which specialises in Corporate & Institutional Banking including the European and North American trade flow and investment opportunities, Retail Banking and Treasury Services. His anti-financial crime responsibilities extend to overseeing the Banks' subsidiary in France, as well as their connected Branches in Germany and Italy. His previous roles have included a MLRO at a small Payments Fintec in the West End of London, as well as holding senior management roles at General Electric (GE) across multiple disciplines and divisions including Banking, Healthcare and Reinsurance.      
He is one of the founding members and the Chair of the MENA FCCG – Europe Chapter an organisation to lead and coordinate the efforts of Middle East banks to fight financial crime in Europe/UK. The European Chapter formally inaugurated in November 2021 with nine founding members representing European subsidiaries or branches of Arab banks. He is also on the Compliance Advisory Committee of the Association of Foreign Banks (AFB). 
Dhar is a Chartered Certified Accountant (FCCA) by training, holds an Executive MBA from The London Business School (LBS) having specialised in Finance and Organisation Design, and a GE Certified Master Black Belt with a strong commitment to the practice and advancement of quality and process improvement. He is hugely passionate about developing individuals and teams and most importantly giving back to the community!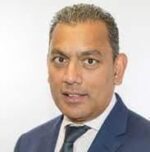 Dhar Solanki
Global Anti-Financial Crime Officer & MLRO
Europe Arab Bank